Monaco, October 14, 2021-Professional cyclist Hugo Houle will be part of the Canadian Israeli team, Israel Start-Up Nation, for the next three years.
"I am really glad to join Israel Start-Up Nation. I am looking forward to contributing to the team's success and supporting my teammates, while continuing my development as a top rider. I am convinced that great things happen when we join forces," says Hugo Houle.
The team has strong Canadian roots. Indeed, its co-owner, Sylvan Adams, is Montreal born. "Joining this team was an obvious choice considering Sylvan's sustained effort to promote Canadian cycling. We know each other well and I have always kept an eye on the team's journey. I am also happy to meet again with some friends from Quebec and Canada," adds Hugo who will be riding next to Michael Woods, Guillaume Boivin, James Piccoli and Alexander Cataford.
This new step in the Olympic athlete's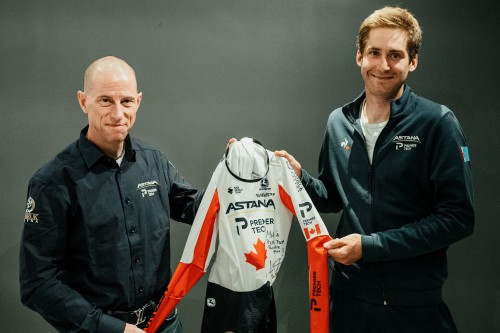 career is not the end of his relationship with Premier Tech. "Over the four past seasons with Astana – Premier Tech, I have developed a friendship with many team members of the company and particularly with Jean Bélanger, the president and chief executive officer. He is a true cycling enthusiast, and I want to thank him for his ongoing support. I will definitely stay close to him and Premier Tech to keep promoting Canadian cycling," he adds.
The rider ends its journey with Astana – Premier Tech on a high note. "I have learned so much with this team. Throughout these past seasons, I have grown not only as a rider, but also as a man. This experience opened up my mind and brought me so much," concludes the rider from Quebec, ready for the 2022 season.